---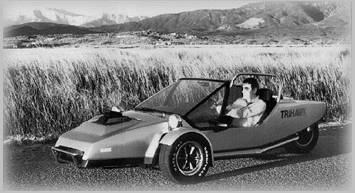 If you still need some clues about what EXACTLY a Trihawk is, I'll try to quickly fill you in. It was initially built in Mokena, IL before moving west to California. Production was limited to 1983 thru 1985, with less than 100 vehicles produced.
Several key people were involved in the design of this vehicle, including Lou Richards and Bob McKee, David Stollery, Dick Kleber and Bill Mozon were the core group that started the project. The original sales location was in Dana Point, CA.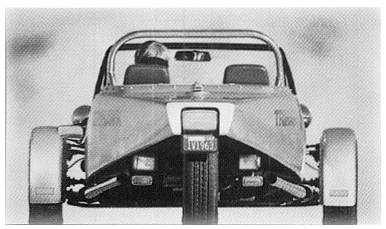 The front-wheel-drive engine/tranny combination was borrowed from the CitroŽn GSA, a car which was never imported into the US. The 1299cc 4 cylinder boxer engine was well suited to the task. Other components were borrowed production vehicles, such as the front suspension and rear trailing arm coming from the Renault R5, steering rack from a Renault Alliance and dash gauges from Honda.